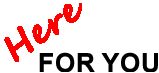 We provide expert legal advice in key areas such as Property, Matrimonial, Probate and litigation matters.
We take a pride in providing a local service where our clients can call in and actually talk to us face to face rather than deal with distant, faceless lawyers who have no local knowledge.
We aim to offer our clients a fast, friendly and high quality service at a competitive price.